A brand new collection for Summer containing the following drinks:

1 of each of the following juices:
Pear Juice / Elderflower / Summer Berries / Pink Lemonade

1 of each of the following sparkling drinks:
Rhubarb & Apple / Lemon & Mint / Ginger Beer / 330ml Soda Water

2 of each of the following small cans:
Sicilian Lemonade / English Garden

Provenance information
We always source our ingredients sustainably, by returning to the same farms and farming communities each year. This not only contributes to their long term sustainable income, but also ensures Folkington's drinks have a unique consistency in both quality and taste.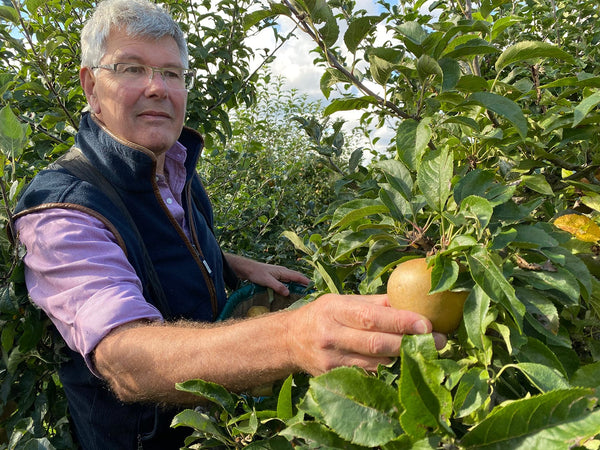 Hero ingredients
Pear - Conference & Comice Variety

The Conference pear is now the UK's most widely grown pear, having first been cultivated in 1884 by Mr Thomas Rivers of Sawbridgeworth, Hertfordshire. It was first exhibited in the following year at the British International Pear Conference from which it took its name. The Comice pear originates from 1849 when it was cultivated in the Loire Valley in France. It derives its name from the French phrase, Doyenné du Comice, meaning, "top of the show," as they are often celebrated as the best pear variety.

Elderflower

There are various cultivars of the Elder shrub that grow wild in Britain, each producing similar white petal-heads with a fragrant aroma. The infusion we make is from the petals alone, after having carefully shaken them from their green stalks, to ensure absolute purity. The Cuckmere River valley, from which many of the flowers have been collected, is an environmental haven for wildlife since it remains uniquely free from any development along its banks from source to its mouth in the South Downs National Park.

Lemon - Femminello Variety

Femminello lemons can be traced back to Roman times as evidenced by wall paintings and mosaics found in Pompeii and Herculaneum (Naples). Making up over 75% of Sicily's lemon crop, Femminello lemons can be harvested year-long because each sub variety blossoms & matures during different seasons. Typically Femminello Comune lemons are medium sized, oval shaped and have a distinctive sourness.

Blackcurrant - Pixley Noir Variety

The Pixley Noir variety was originally identified in 2003 by Herefordshire farmer Edward Thompson who took the next 10 years to then propagate, plant and crop it. It has incredible colour intensity, unusually low acidity and a gentler flavour than most other blackcurrant varieties.

Rhubarb - Timperley Early

Timperley Early Rhubarb is one of the most prolific varieties grown in Northern England. It matures in February at the start of the season and is characterised by its thin tender stems.

Apple Juice - Selected Varities

Russet variety (in our apple juice). The Egremont Russet has its origins in Sussex and was first cultivated on the Petworth House Estate of Lord Egremont in 1870. It has a distinctive "nutty" taste and a textured golden-brown skin that makes it unique among British apples. With its rich fruity taste it produces a creamy-sweet apple juice.

Jonagored variety (in our apple juice). The Jonagored apple is a recent cultivar, originating from Belgium. It was developed by a local apple farmer, Jos Morren, who in 1980 noticed that the top branch of one of his Jonagold apple trees had started growing dark red apples. He decided to propagate the branch and a new award winning variety was born.

Ginger Root Extract

The ginger plant ("Zingiber officinale") originated from the rainforest of South East Asia and is now cultivated in most tropical regions. The ginger we use is the Tafin-Giwa variety that is grown in West Africa and has a spicy, aromatic flavour with citrus notes.

Mint

Mint ("Mentha") has been used as a medicinal herb for thousands of years; its digestive calming properties have become popular as a tea drink but it remains a powerful and distinctive ingredient in food, drinks and aromatherapy.
See individual products for their respective ingredients.
See individual products for their respective nutritional values.