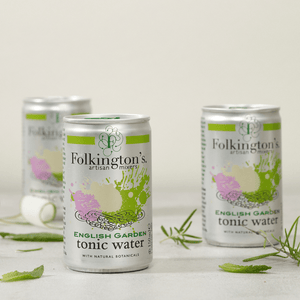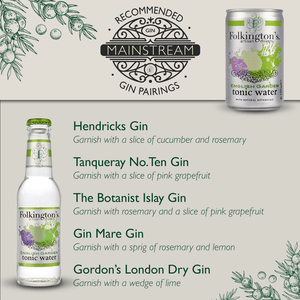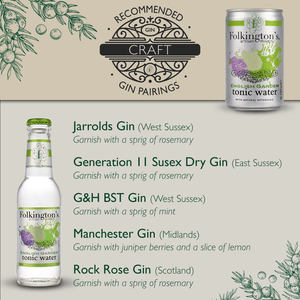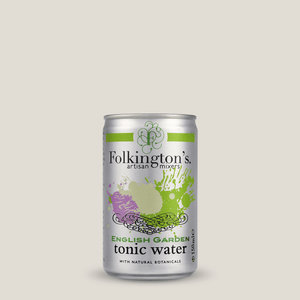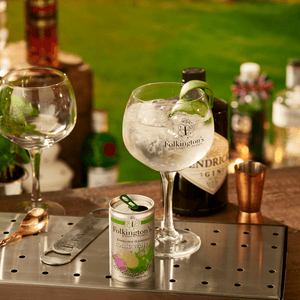 English Garden tonic water
Folkington's English Garden Tonic Water is made from natural quinine blended with rosemary, cucumber and mint extracts made in small batches.
Ingredients 
Carbonated spring water, sugar, natural flavourings including quinine, acid (citric acid).
Free from any preservatives or artificial sweeteners or additives

Nutritional Data 
Typical Values per 100ml
Energy 143 kJ / 36 kcal
Fat 0 g
   – of which saturates 0 g
Carbohydrates 7.7 g
   – of which sugars 4. g
Protein 0 g
Salt 0 g

Provenance information
Our English Garden tonic water is made using herbal botanicals found in the typical English garden. We always source our ingredients sustainably, by returning to the same farms and farming communities each year. This contributes to their long term sustainable income, and also ensures Folkington's drinks have a unique consistency in both quality and taste.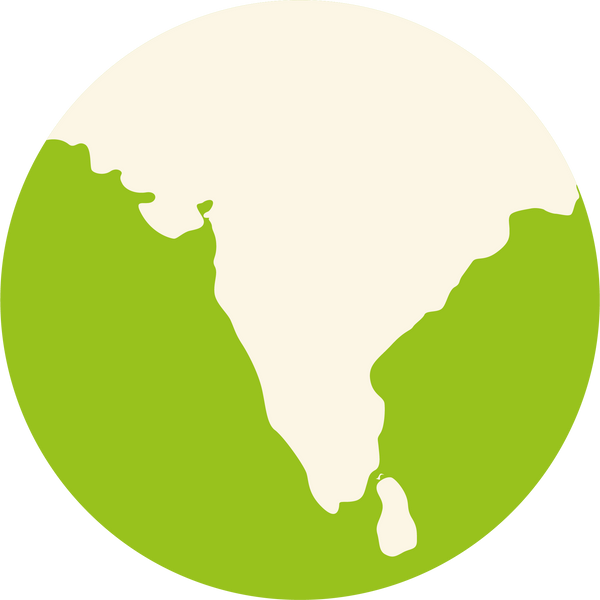 Hero ingredients
Cucumber

Cucumber ("Cucumis sativus") originated in India over 3000 years ago. It is part of the gourd family but grows like a vine. In botanical terms it is classed as a berry but grows from a flower and is eaten as a vegetable. A cucumber is 95% water when fully grown.

Rosemary

Rosemary ("Rosemarinus officinalis") is curiously a member of the mint family originating from the Mediterranean region but has now adapted to cooler climates. It has been cultivated in England since the 14th Century. It produces little blue flowers between April and June. The rosemary we use is from England.

Mint

Mint ("Mentha") has been used as a medicinal herb for thousands of years; its digestive calming properties have become popular as a tea drink but it remains a powerful and distinctive ingredient in food, drinks and aromatherapy.

Quinine

Quinine is an extract from the bark of the Cinchona tree ("Cinchona officinalis"). The bark we use comes from India and can be traced back to the cinchona plantations established by the British Government in India in the 1860s.
Carbonated spring water, sugar, natural flavourings including quinine, acid (citric acid).
Typical Values per 100ml
Energy 143 kJ / 34 kcal
Fat 0 g
– of which saturates 0 g
Carbohydrates 7.7 g
– of which sugars 7.7 g
Protein 0 g
Salt 0 g