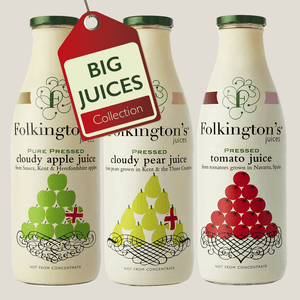 A limited edition collection containing the following 3 glass bottles of our 1 litre Juices:

1 of each of the following drinks:
Cloudy Pear juice, Tomato juice and Cloudy Apple Juice.
Provenance information
We always source our ingredients sustainably, by returning to the same farms and farming communities each year. This not only contributes to their long term sustainable income, but also ensures Folkington's drinks have a unique consistency in both quality and taste. Hero ingredients
Pear - Conference & Comice Variety

The Conference pear is now the UK's most widely grown pear, having first been cultivated in 1884 by Mr Thomas Rivers of Sawbridgeworth, Hertfordshire. It was first exhibited in the following year at the British International Pear Conference from which it took its name. The Comice pear originates from 1849 when it was cultivated in the Loire Valley in France. It derives its name from the French phrase, Doyenné du Comice, meaning, "top of the show," as they are often celebrated as the best pear variety.

Tomatoes - From the Ebro Valley

In Spain tomato growing represents the most traditional horticultural crop in the Ebro Valley's irrigated land and is dominated by small traditional family farming businesses, providing much needed work for the elder generation. There are an estimated 3,500 tomato farmers in the Ebro Valley working over 5,100 hectares and harvesting mostly by hand.

Apple Juice - Selected Varities

Russet variety (in our apple juice). The Egremont Russet has its origins in Sussex and was first cultivated on the Petworth House Estate of Lord Egremont in 1870. It has a distinctive "nutty" taste and a textured golden-brown skin that makes it unique among British apples. With its rich fruity taste it produces a creamy-sweet apple juice.

Jonagored variety (in our apple juice). The Jonagored apple is a recent cultivar, originating from Belgium. It was developed by a local apple farmer, Jos Morren, who in 1980 noticed that the top branch of one of his Jonagold apple trees had started growing dark red apples. He decided to propagate the branch and a new award winning variety was born.
See individual products for their respective ingredients.
See individual products for their respective nutritional values.