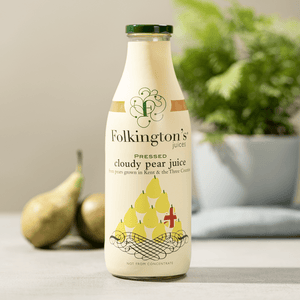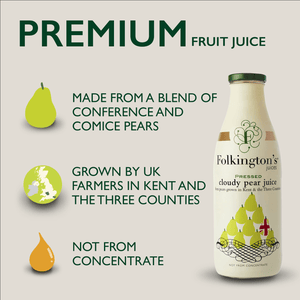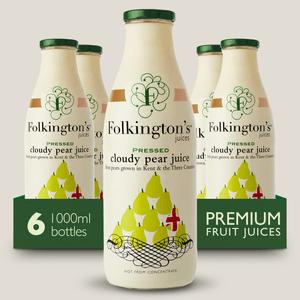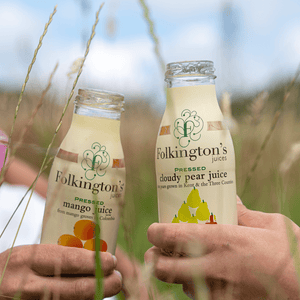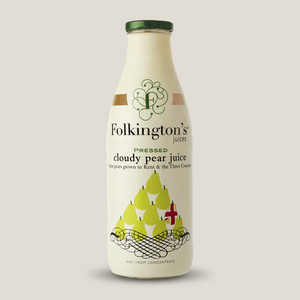 Our Cloudy Pear Juice made from a blend of Conference and Comice pears grown in orchards in Kent and the Three Counties (Gloucestershire, Worcestershire and Herefordshire). To add a bit of extra sweetness and texture, we have added pear purée from Kent grown Conference pears.

Tasting notes: Fresh pears with a soft mouthfeel from the use of a small amount of pear purée.

Provenance information
The Conference and Comice pears blended for our pear juice, are grown in orchards across Kent, Gloucestershire, Worcestershsire and Herefordshire. We always source our ingredients sustainably, by returning to the same farms and farming communities each year. This contributes to their long term sustainable income, and also ensures Folkington's drinks have a unique consistency in both quality and taste.
Hero ingredients
Pear - Conference & Comice Variety

The Conference pear is now the UK's most widely grown pear, having first been cultivated in 1884 by Mr Thomas Rivers of Sawbridgeworth, Hertfordshire. It was first exhibited in the following year at the British International Pear Conference from which it took its name. The Comice pear originates from 1849 when it was cultivated in the Loire Valley in France. It derives its name from the French phrase, Doyenné du Comice, meaning, "top of the show," as they are often celebrated as the best pear variety.
88% pure Conference & Comice pear juice (not from concentrate), 12% Conference pear purée, citric acid, antioxidant: vitamin C
No added sugar, preservatives or additives
Typical Values per 100ml
Energy 213 kJ / 50 kcal
Fat 0 g
– of which saturates 0g
Carbohydrates 12.3 g
– of which sugar 12.3 g
Protein 0 g
Salt < 0.1 g